- Can you please explain us how did you end up working on the Flick Of the Switch sound mix (along with Tony Platt) in this year 1983 in NYC?

- I had just finished assisting Hugh Padgham (Genesis,The Police) mixing Hall and Oates H2O album and the studio manager said AC/DC was coming in and asked if I wanted to jump onto that one. Of course I said absolutely.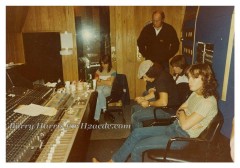 - Could you please detail what was your exact job and missions on this mix during what we could call the second phase of Flick of the Switch elaboration in the Electric Lady Studios?

- Well I assumed I would be helping Tony with the usual tasks involved in assisting during mixing sessions. Back then, before everything was totally computer based, it usually required a couple of sets of hands to mix a song. Changing EQ, effects settings, and levels on the fly as you moved through a song mix. But I ended up also having to re-record all the vocal tracks.

- Were all the band members there or only Malcolm and Angus ? Being for the first time producers, do you think Angus and Malcolm knew enough at this stage about how to record/mix an album?

- Mal, Angus, Cliff and Brian were all there. Cliff's wife was there as well. After working with Mutt Lange, I think Mal and Angus knew what they didn't want that record to be. In my opinion there was never a pairing of musical masters like Mal/Angus and Mutt Lange who approach their craft from a more opposite ideology. AC/DC is about pounding it out and getting on with it while Mutt is a sonic perfectionist with a reputation for driving artists to their breaking point in the studio. We all know the Def Leppard story. So I think they may have just swung the production pendulum a bit too far in the opposite direction in their desire to get back to basics on Flick.

- It has been reported their brother George and Harry Vanda came to give some insight and help in NYC during the process. Do you confirm this? What added-value do you think they brought?

- About half way through they did asked George to come in (Harry wasn't there) and lend an ear. This is where ,for me, the process changed. They decided to scrap all the vocals and fine tune the lyrics. So while Tony was working in Studio A I went to Studio B with George and Brian to record new vocals. Brian rewrote some lyrics on the spot and then George helped him get his best performance down on tape. We would finish a song, send it up to Tony and then get started on the next track. I'd be lying if I didn't say I had to pinch myself a couple of times to make sure I was really there recording Brian Johnson's vocals for an AC/DC album.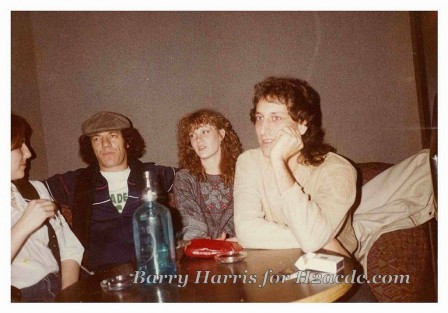 - Ten songs were finally released on the album. Do you remember some being left out?

- I don't recall seeing or hearing any additional tracks other than whats on the album

- During the Flick of Switch process, tensions appeared between Phil Rudd and Malcolm which resulted in Phil being fired. Some drummers have then been auditioned in NYC at that time. Do you remember who was auditioned, what did they play during their auditions?

- I never got up to the sound stage where they did the auditions. . I just remember them showing up one day with Simon.

- Talking about drumming. Is it 100% Phil Rudd on Flick of the Switch or were some parts got re-recorded after he got sacked?

- It's all Phil.

- It has been reported that the early recordings of Flick were very close to the Back In Black sound and that was something Malcolm did actually want to avoid in order to give to Flick its own very specific sound identity. Do you remember this and do you know if early recording / mixes still exist on tape?

- The only mixes are the ones on the record.

- Who, between Angus and Malcolm get the final word ?

- Mal was more involved in the process but they jointly made the decisions.

- Do you remember what kind of equipments / brand / models Tony and you were using for that mix?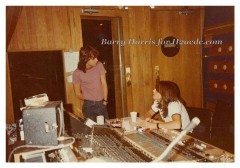 - It was mixed on the Neve 8078 console in Studio A which is a great sounding board onto a Studer A80 1/2 inch anolog deck. Minimal outboard gear. Just a bit of compression and limiting using LA2A and LA3A compressors. Lexicon 224 digital reverb for some ambience. And a bit of outboard EQ. Brian was recorded with a Neumann U87 microphone. If you look at the liner notes you'll see a reference to the record being mixed using the Ramsa Sound Localization Processor. I had been reading about some new technology when I came across this piece of equipment. It sounded pretty cool so we had Ramsa send one to test out. Here's the idea: while listening to a song in front of stereo speakers, you may hear a guitar coming from the left speaker, a keyboard coming from the right speaker and a vocal down the center . This device enabled us to locate an instrument way outside the speaker spread. So using a joystick we were able to , for example, .pan any instrument to either speaker but then keep moving it past the actual speaker all the way to either side of the room. In effect making it sound like it's coming out of the side wall where there is no speaker! It was so cool that Mal and Angus let us use it. I don't think the effect survived after the master tape went through the mastering and pressing process The place to try and hear it would be the guitar intro on Guns for Hire. We panned the guitàr all the way to the left side of the room.

- Did Angus and Malcolm re-record some parts / overdubs in NYC during the mixing process?

- No. Just the vocals.

- Do you have some « in-studio » anecdotes you would like to share with us?

- Well there are two or three things that I remember. Just little moments. People may be tired of hearing this but all the guys ,including the bodyguards, treated me like a brother. They all called me Baza which I discovered was a nickname for Barry in Australia. I was told years later that one of the reasons they were so comfortable with me was that, for some reason, I reminded them of Bon. And at the time it wasnt that long since his passing. I did end up spending a lot of time with them during the Flick tour. Another funny memory was Brian's accent. Back then it was so thick that whenever he spoke to me I had to look over to Angus or Mal for an 'English to English' translation. They would bust out laughing at me every time. I also remember one day Angus sitting at the console sketching on a pad. I thought wow he's a pretty good artist. When I got a promo copy of the record, there it was on the cover. The exact sketch he did that day in the studio.