Hi Jesse, How and when did you discover AC/DC ?
I'm 40. I've listened to AC/DC since I was a teenager: well over 20 years. I grew up in Balmain in Sydney, just around the corner from Malcolm Young's house, listening to great Australian music like AC/DC, The Easybeats, Rose Tattoo, Hoodoo Gurus, INXS, Divinyls and Midnight Oil. My mother had a flirtatious encounter in the back of a car with Stevie Wright in his very early Easybeats days, so she always loved telling me that story and because of that I got introduced to the music of Stevie Wright, George Young and Harry Vanda, and later AC/DC.
But I never really got into the band in a big way until after my divorce from my ex-wife. At the time I was a writer for one of the TV networks in Australia, and my life was crashing around me because of the relationship breakdown. I was listening to Powerage one night while at home alone, feeling depressed and miserable about losing this woman who had been such a big part of my life and given birth to my child, and had a sort of epiphany when "Gimme A Bullet" came on. I was like, "I finally get what you're on about, Bon." She really did hit me low. Hearing the lyrics and the pyrocastic flow of sound that the Young brothers create with their guitars in that song was the moment a light went on in my head when it came to AC/DC. I was never the same afterwards.
AC/DC's music is not just good-time music; it's restorative, almost like a drug. It makes you feel good. It makes you feel powerful and strong even when not everything in your life is going the way you'd like. I listen to AC/DC every day, without fail. "Whole Lotta Rosie", "Back In Black", "Highway To Hell" and "It's A Long Way To The Top" never sound stale to me. But, in 2013, I think it's fair to say they're more lucrative brand than working band.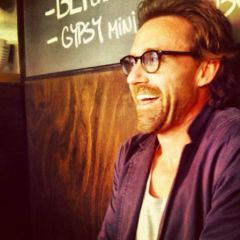 Why did you decide to write a book about AC/DC now ?
Three reasons.
First, I wanted to. I'm a writer. I'm always looking for something new and interesting to write about. My first book was about the FIFA World Cup and Australia's engagement with Asia through football. The second was a memoir of sex and relationships. Who wouldn't want to have a crack at AC/DC as a subject ? They're the biggest band in the world. Why are they so big? How did they get there ? That was the starting point.
Second, surprisingly little had been written about AC/DC's songs and the three Young brothers (George, Angus, Malcolm), who are very private people. I chose 11 songs by the Youngs spanning the years 1968 to 1990; it's a critical appreciation rather than a standard, linear, join-the-dots biography. Through writing about the songs, and interviewing people who were involved in their creation or inspired by hearing them, so many untold stories about the band and the brothers fell into my lap. By the same token, I also had to dig very deep. It was above all else an investigative exercise. I had started out not wanting to write a biography but there are biographical elements to the book.
Third, as preposterous as it might sound, the world needed a new book about the band. Many have been published before, of course, and for me two stand out: Mark Evans's Dirty Deeds and Clinton Walker's Highway To Hell. Mark's book was in parts very poignant and touching. He wasn't afraid to show his vulnerability. It must have been very hard for him getting dumped from the band through no real fault of his own and watching AC/DC go on without him to become what they are today. There's a lot of pathos in Mark's tale. Clinton's was well written, had some bite and in my opinion is the best of the lot but he wasn't helped with lack of access to some important people in the AC/DC story. It's also 20 years old. I take my hat off to Clinton: he did a great job at a time long before the internet made it easy to access information and make contacts. It couldn't have been easy. And he took it right up to the Youngs.
But all of these AC/DC biographers – guys like Murray Engleheart, Mick Wall, Joe Bonomo, Phil Sutcliffe – have done important work. I admire anyone who has made a contribution to writing the history of AC/DC. That includes fans who are on the hunt for things no one has seen before: ticket stubs, posters, concert photos, hotel bills, videos, whatever. There are a lot of them, all over the world and all over the web. They're doing it every day because they love the band, as I do. It's a labour of love and ultimately a collaborative effort. I see my book as a small part of that repository of knowledge.
What I think The Youngs proves is there's so much to the AC/DC story that hasn't been told yet. My motivation was not to write just another AC/DC book that retells the same anecdotes or rehashes the information we've all heard before. There were existing stories about AC/DC that required tackling and debunking, which I think I've done.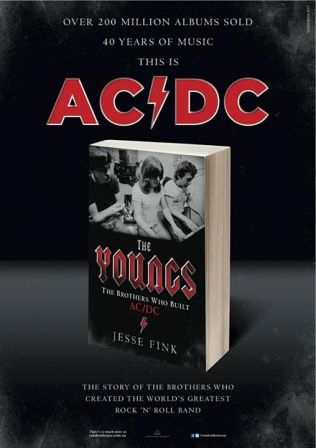 Is it a big challenge to write about the alchemy between the three brothers ?
I'm not a musician myself. I'm a writer. I don't profess to truly understand what it is that they do with their guitars. Which is why I spoke to other people who have worked with the Youngs or know them personally or professionally, including some world-renowned musicians, engineers and producers, to attempt to divine the secret of that alchemy.
But inescapably you have to draw the conclusion that this alchemy, synergy, symbiosis, whatever you want to call it, is deeply rooted in family and can come only from a lifetime of physical proximity, exposure to the same creative influences and the bonds the brothers were born into. And that's not just the Young clan, but the "Glasgow mentality" they brought with them to Australia and took into their business. AC/DC is a business as much as it is a rock group.
So yes, it was a challenge. It wasn't a walk in the park. Especially when the brothers' advisors and management didn't want to cooperate with the project. That wasn't unexpected; other biographers have been restricted in that way. The challenge was working around that restriction and in the end I believe the book actually benefited from it. This book was never going to be a suck job. A lot of people from AC/DC's past wanted their voices to be heard and they were given a platform. I got some pretty amazing stuff I wasn't expecting.
What makes George's role essential, even crucial ?
A well-placed insider who worked for years with the band told me George is the "equivalent of being the chairman of the board of whatever network of structures is in place to maximise the revenues to the band and the Young family".
For all intents and purposes he has pulled the strings behind the band since they began in 1973: musically, fraternally, as a business advisor. By reliable accounts he's stepped away from intimate involvement with the band and even music in general in recent times but he's always been involved in the direction, decision-making and musical imprint of AC/DC. Angus and Malcolm still defer to him. How can they not? He's the older brother. It's the Scottish way.
You can hear George in everything AC/DC does. It started with The Easybeats and the riffs in "Sorry", "Good Times" and "St Louis". There's undeniable continuity between the two bands that I think a lot of critics outside Australia haven't picked up on. In his book Why AC/DC Matters Anthony Bozza says the only Easybeats song relevant to a discussion about AC/DC is "Friday On My Mind". That's hogwash. Australians know and can hear the connection because we grew up with The Easybeats. There's a telling line in the book from Stevie Wright: "I'm really proud AC/DC continued the job we set out to do." So the two bands are inextricably linked.
George is as fundamental to the success of AC/DC as Angus and Malcolm. I find him fascinating if still something of a mystery.
What/who were your sources ?
There were over two dozen important people who hadn't been interviewed for previous AC/DC books, including former band managers, record-company executives, promoters, DJs, musicians, producers, engineers and more – a whole cast of people in Australia, the United States and other countries. Over 75 people were interviewed or contributed information in some way and many more – double that number – helped me put it together. Among the "names" featured in the book are music-industry icons such as Tony Platt, Terry Manning, Shel Talmy, David Thoener, Jimmy Douglass, Mark Opitz, Matt Sorum, Ken Casey, Mike Fraser, Barry Diament, Phil Carson, David Glew, Jim Delehant, David Krebs, Steve Leber and many more. I couldn't have done it without them. Jerry Greenberg, the president of Atlantic Records when AC/DC was at the label, was especially vital. He opened up a lot of doors for me.

Can you give us a little insight about what we will find in your book ?
I can't say too much before the book is released but there are things in The Youngs that haven't been written about before that cast certain events, songs, albums and individuals in a different light. I challenge a number of existing stories and give credit to some people who really should have been recognised a long time ago for their roles in building the colossus that is AC/DC. But this book has been written with affection and respect. I love AC/DC's music, especially the early stuff. I just think the fans deserve a book that doesn't follow the same script. The Young brothers haven't always been perfect. In my opinion there are individuals who were pivotal to the rise of AC/DC that deserved much better treatment from them.
What makes your book different from the existing ones on AC/DC ?
The Youngs is very different to those books because it's a book that is about AC/DC's music. How it works, why it works and, crucially, who made it work. It gives credit to people in the AC/DC story who have not been recognised for their important contribution, especially those who worked with the band at Atlantic. So many books about AC/DC have been hagiographical and, in my view, lacked the right amount of critical perspective. Being a fan doesn't mean you have to be a fanatic. There's a difference. So I think this book is fairly unique in the canon of AC/DC literature. It's not a straight biography.
Will we find some unpublished stories, anecdotes or unseen pictures ?
Yes. There are many. A whole bunch of important people are interviewed for the first time, including a slew of Atlantic executives. There are a few unseen pictures in there.
In your opinion, what does AC/DC represent in rock 'n' roll history ?
The greatest rock band of all time, even if they haven't written a true classic since 1990. They're also a triumph of branding.
When you hear the name "AC/DC", does it remind you of one particular concert, one particular tour or anecdote ?
No, I think of "AC/DC" on a teenager's T-shirt on Instagram or Tumblr (thousands of them take selfies on any given day) and wonder to myself, "What does that really mean to those kids? What do those four letters represent in 2013? Is it still about the music or is it the force of the myth?" Those four letters have a real history and they symbolise a lot: not all of it necessarily positive, when you look beyond the surface of their story. But I'm partial to Bon Scott–era AC/DC and especially the band with Mark Evans. Mark deserved a lot more from the Youngs. He was treated rather shabbily, in my opinion. He's a good bass player and a good bloke.
Do you have a particular message for Highwaytoacdc.com members ?
Keep up the great work. What you guys have done by pooling all this information together is an important form of musical scholarship and curatorship. It's really valuable. You can be proud of yourselves and the band should be grateful for your support, if they're not already.
The Youngs: The Brothers Who Built AC/DC is being published in Australia on November 1. Like The Youngs on Facebook at www.facebook.com/youngsacdc and follow Jesse Fink on Twitter at www.twitter.com/JesseFink