- Event program : Concert

- Event Line up :

- AC/DC 's Line Up :
-Singer: Bon Scott

-Lead Guitar: Angus Young

-Rhythm Guitar: Malcolm Young

-Bass Guitar: Cliff Williams

-Drums: Phil Rudd

- Setlist : Unconfirmed

Live Wire
Problem Child
Bad Boy Boogie
Dog Eat Dog
Whole Lotta Rosie
Hell Ain't A Bad Place To Be
Let There Be Rock
- Photos : Danny Couwels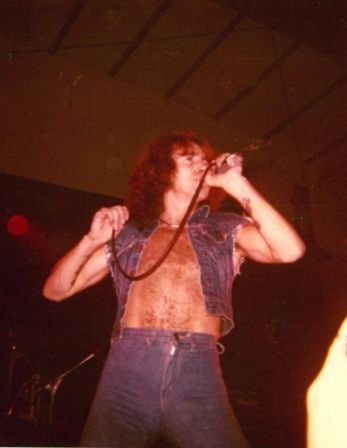 - Comment : Openers "Mothers Of Track" did not play this show. AC/DC walks on stage at 10.45pm instead of 9pm because of techical problem related to power supply. A riot starts in the Hall, on stage and even backstage while the Police tries to stop the show. A huge brawl occurs between the band's crew, the Police and the crowd. Those incidents will later be related in Bedlam in Belgium (1983).
- Excerpt:

There was a cop with a gun
Who was running around insane
Three fifty arrests
No bullet proof vest
Now ain't that a shame
We wanted to play
Play for the crowd
"No", said the wankers

"You're on your way out"

"Il y avait un flic avec son arme
qui courait partout comme un fou
trois cent cinquante arrestations
pas de gilet pare-balle
Si c'est pas une honte...
On voulait jouer,
jouer pour les fans,
les branleurs nous on dit "non, c'est par ici la sortie"

Bedlam in Belgium





© H2ACDC.COM. May not be reproduced without written permission of Highwaytoacdc.com, contact@highwaytoacdc.com