- Event program : Sunbury Pop Festival - Canceled Show
- Event Line up :
- AC/DC 's Line Up :
-Singer: Bon Scott

-Lead Guitar: Angus Young

-Rhythm Guitar: Malcolm Young

-Bass Guitar: George Young

-Drums: Phil Rudd

- Set List : ---

- Source: Juke Magazine

- Excerpt History:

Sunbury '75 ran from 24 January to 27 January. The attendance was only 15,000-16,000 and the festival suffered terminal financial losses. UK band, Deep Purple went home with $60,000, while most local groups went home empty handed. AC/DC allegedly refused to play after Deep Purple roadies provoked a fistfight with them. According to Deep Purple's lead vocalist, Dave Coverdale, "Apparently, a young Aussie band had jumped onstage, plugged into our gear and started playing! Well, all hell broke loose, from what I was told. Our roadies (big buggers to a man) wrestled with the young band to get them off our equipment and off the stage. Chaos and frolics ensued". Adding insult to injury, members of AC/DC, their roadies, and producer George Young got into a altercation with Deep Purple's roadies, who refused to allow AC/DC to go on after Deep Purple. In the end AC/DC went home without performing.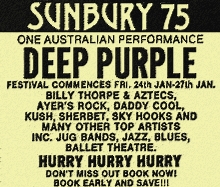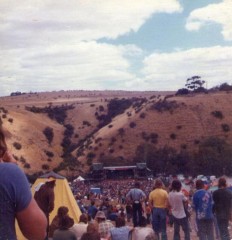 © H2AC-DC.COM. May not be reproduced without written permission of Highwaytoacdc.com