Plus
Spectateurs : 48000
Event program : Concert
Event Line up :
AC/DC's Line up :
-Singer : Brian Johnson

-Lead Guitar : Angus Young

-Rhythm Guitar : Stevie Young

-Bass Guitar : Cliff Williams

-Drums : Chris Slade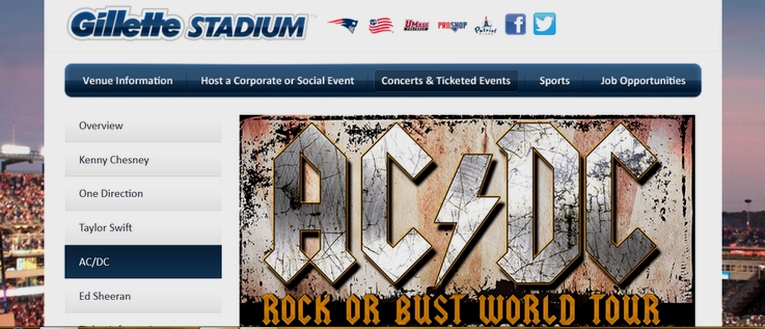 L'histoire se répète. Comme en 2009 durant le Black Ice Tour, après une pause d'un peu moins d'un mois et une tournée triomphale et sur les chapeaux de roue en plein air sur le vieux continent, c'est depuis Foxborough qu'AC/DC repart sur la route pour sillonner le continent nord-américain, jusqu'à fin septembre.
Le combo californien The Vintage Trouble, bien accueilli en Europe, rempile en opener.
Alors que nous réserve ce leg US et canadien du Rock or Bust Tour ? Le concept scénique restera le même, mais quid de la set list, figée sur les shows open air européens ? Toujours deux titres du dernier opus, apparition de Rock the Blues Away ? Le retour dans le show de titres des album "Ballbreaker" ou "Stiff Upper Lip", totalement ignorés jusque là (on peut penser à d'autres mais les rêves ont leur limites avec les boys).
Nul doute que ce premier show fournira déjà de très intéressantes indications, voire des réponses définitives connaissant AC/DC, mais attendons quand même un peu ! Foxborough (ou Foxboro), ville du Comté de Norfolk, dans le Massachusetts, se trouve à peine à 35 Km au sud-ouest de Boston, capitale de l'État, qui elle a reçu la visite d'AC/DC 11 fois depuis 1978 (la dernière fois le 9 Novembre 2008).
Le Gillette Stadium (surnommé The Razor) est le domicile des Patriots de la Nouvelle-Angleterre de la National Football League et des New England Revolution de la Major League Soccer.
USA, have a blast ! Go AC/DC go !



Setlist :
Hell Ain't a Bad Place To Be
Back In Black
Play Ball
Dirty Deeds Done Dirt Cheap
Thunderstruck
High Voltage
Shot Down In Flames
Have a Drink On Me
T.N.T.
Média :
Photos et review :

© H2AC-DC.COM - May not be reproduced without written permission of Highwaytoacdc.com, contact@highwaytoacdc.com