Plus
Spectateurs : 90000
Pages associées
Event program : Concert Coachella Valley Music and Arts Festival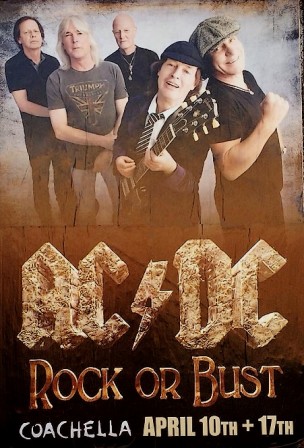 Event Line up :
AC/DC
Tame Impala, Interpol, Steely Dan, Alesso, Alabama Shakes, Ride, Nero...
AC/DC's Line up :
-Singer : Brian Johnson

-Lead Guitar : Angus Young

-Rhythm Guitar : Stevie Young

-Bass Guitar : Cliff Williams

-Drums : Chris Slade




Bilbao, 28 juin 2010, voici le lieu et la date du dernier concert d'AC/DC à ce jour (abstraction faite de la prestation TV des Grammys Awards du 8 février dernier). Un peu moins de 5 ans, ce qui reste un laps de temps devenu habituel entre deux tournées mondiales du groupe, mais en réalité une éternité, tant de choses se sont passés depuis...
L'annonce de la maladie de Malcolm et de son retrait du groupe, son replacement par Stevie Young, de retour après l'éclipse de 1988, les ennuis judiciaires de Phil Rudd en pleine promotion du nouvel album Rock or Bust obligeant le groupe à faire appel à Bob Richards pour le tournage des clips à Londres. S'en suit une longue période de rumeurs et de supputations sur l'identité du batteur susceptible de participer à la nouvelle tournée avant que le voile ne soit levée quelques heures avant la cérémonie des Grammys Awards : Chris Slade, batteur du groupe de 1989 à 1994 is back !
C'est donc un line-up totalement inédit qui se prépare à entamer ce "Rock or Bust World Tour", et sur deux dates de festival de surcroît, une première sur le continent américain depuis Toledo 1980 (avec ZZ TOP) et Toronto 2003...
Festival grand public désigné comme le meilleur au monde selon le magazine "Rolling Stone", le Coachella Festival prend ses quartiers à Indio, en Californie. Depuis 2012, les artistes se produisent deux fois, à une semaine d'intervalle. Cette année, côté têtes d'affiche, AC/DC les 10 et 17 avril, Jack White les 11 et 18, Drake les 12 et 19.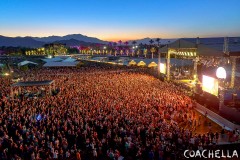 L'offre de Caochella est pour le moins éclectique : rock alternatif, hip-hop, musique électronique pour la musique ainsi que de grandes installations artistiques.
Beck, Morissey, Jane's Addiction, Oasis, Foo Fighters, les Red Hot Chili Peppers, Iggy and the Stooges, The Cure, Madonna, Depeche Mode, Coldplay, Prince, Paul McCartney, Muse ou encore Radiohead pour ne citer qu'eux se sont partagés l'affiche et les 8 scènes.



Pas surprenant à ce titre que Coachella soit le plus grand festival US : 579,000 spectateurs et 78 millions de $ de recette en 2014 !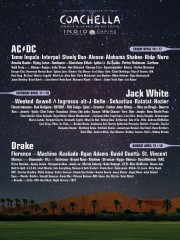 Ce 10 avril 2015, à Indio Californie, la formidable épopée AC/DC reprend son cours, la légende continue. Festival sold out en quelques heures. AC/DC live, sans Malcolm Young, le fondateur. Coachella à suivre en direct sur Youtube !
Le livre reste ouvert, mais une page se tourne, alors que dans les mois qui viennent d'autres vont s'écrire.
Alors oui, "Rock or Bust". Entre excitation et émotion, plus que jamais, go AC/DC, go, sur scène à 22h35 vendredi soir, soit 7h35 heure française samedi matin.






Set List :
Shoot To Thrill
Baptism By Fire
Média :
Photos et review :







© H2AC-DC.COM - May not be reproduced without written permission of Highwaytoacdc.com, contact@highwaytoacdc.com