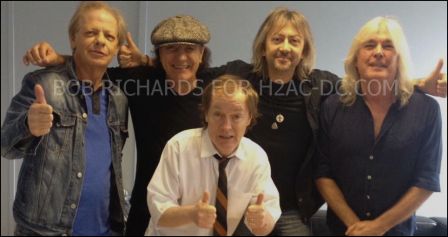 When AC/DC fans discovered your drum kit set up for the Rock Or Bust video shoot, they immediately knew a new face will show up. But you actually already were in London the day before, for the video shoot of Play Ball. No-one knew at this point.
- When and how did you get in touch with AC/DC's management regarding those two days in London?
I recieved a phone call from Dick Jones ( Pil Rudd's drum teck) asking if i was available to go to london the next day to stand in for phil.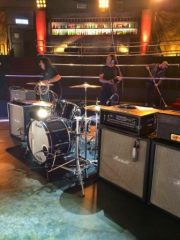 - Do you know why Dick Jones called YOU? Did you know him from before? Do you know who recommended you for the gig?
I only met Dick on one occasion before , but he knew of me as his Brother Ray plays Bass in one of my bands called Son Of Man.
- According to some researches we made, you already had contacts with Stevie because you two have been hitting the Birmingham-area music scene for a long time? Do you confirm this?
its true that ive been involved in the Birmingham music scene with a band called SHY but ive never met Stevie before the video shoots.
- Did AC/DC's management give you any explanation on why you were asked to fill in for these two shots and what was going on with Phil?
No, and i didnt ask any questions.
- When did you first meet the band and how did it go?
I met the band a few hours before the first shoot and we got on very well, they are great people and made me feel very welcome.
- Have you got time to rehearse before the shooting?
I just listend to the track several times on my own as we had no run through and when the cameras rolled it was off we go so to speak.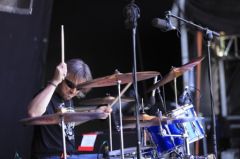 - What were the guidelines of the band / management regarding the video shoots? Did they ask you specific stuffs about what you had or had not to do?
No , i could just be myself and enjoy the experience.
- Did you feel some stress when you stepped up on the film set? Were you worried about the reactions of the fans?
Not really, it was exiting , i was aware that they had no idea i was there but i guess the fans were more exited with seeing the band close up than worrying about me.
- How did they react when Brian introduced you to them?
They let out a big roar !!
- Did you talk with the fans after the shooting? What did you talk about?
Yes , i talked to many fans , they were asking about who i played with and how i got the do the videos etc.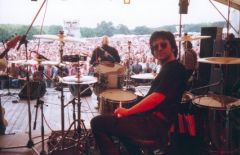 - About your musical career , can you tell us your first steps in the music and the bands in which you played ?
I first picked up the sticks when i was 3 years old , first public appearance at 7 . Other Bands include , SHOGUN , Adrian Smiths Untouchables , MAN, ASIA , Dave Edmunds, Andy Fairweather Low , Paul "Tonka" Chapman , Graham Bonnet .
- Did you know AC/DC's discography well before being asked to replace Phil? What are your favorite albums / songs and why?
I first saw the band at the monsters of rock in 81 then 84 ,91,and a few times after that, I remember buying Touch too much as a single and its one of my favorites .Obviously back in black is way up there!
- The drummer debate is an endless one among AC/DC's fans. What is your opinion as an accomplished musician/drummer. What makes one better than another for the AC/DC style?
As a drummer , our job is to play for the song , Obviously, different drummers have different styles so there will be a slight difference in how each drummer approaches the song, it doesnt mean that one is right and one is wrong , its just different!. However , one may have a more sympathetic feel required for the song or band in question .
- According to some rumours.. you participated to the pre-recording sessions of Ballbreaker in 1994-1995. Is this true?
Not true !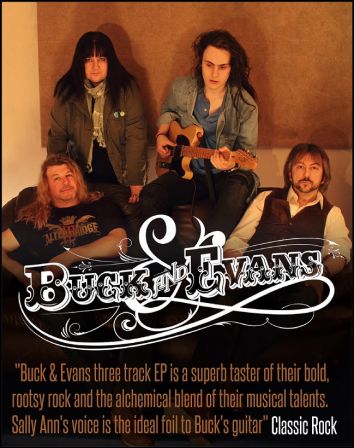 - What are your current musical projects?
I have a few projects on the go see websites. :
Buck and Evans
Son of Man
Celtic Pride
Celtic Pride on itunes

- No matter what is said, you took place to that shooting and you are now part of the big AC/DC's family and on behalf of the Highwaytoacdc.com community, we thank you for that and for helping the band in a very difficult context. And thank you for having accepted to answer our questions !
My snare drum head signed by the band after the video shoot !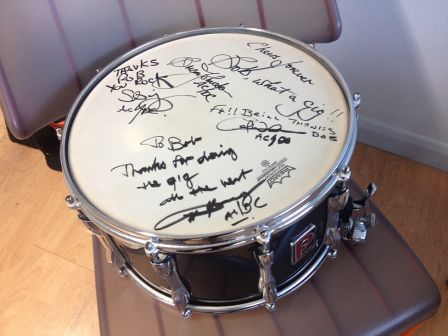 - Thank you Bob !!