- Event Program : Open air Festival " Day On The Green "
- Event Line up :
Aerosmith
Foreigner
Pat Travers
Van Halen
AC/DC
- AC/DC's Line Up :
Singer: Bon Scott
Lead Guitar: Angus Young
Rhythm Guitar: Malcolm Young
Bass Guitar: Cliff Williams
Drums: Phil Rudd
- Set List :
Live Wire
Problem Child
Sin City
Rock'n'Roll Damnation
Bad Boy Boogie
High Voltage
Whole Lotta Rosie
Rocker
En ces journées où la mélancolie le dispute au désarroi, HighwayToACDC souhaite partager avec vous quelques photos dont la puissance émotionnelle ne vous échappera pas.
Une grande sérénité se dégage de ces clichés, qui nous permettent de retrouver, en ce "Day on the Green du 23 juillet 1978", un groupe sûr de son talent et de sa force, et un Malcolm Young terriblement attachant.

H2, son Staff et tous ses membres, remercie le photographe Richard McCaffrey pour l'exclusivité de publication qu'il nous a accordée.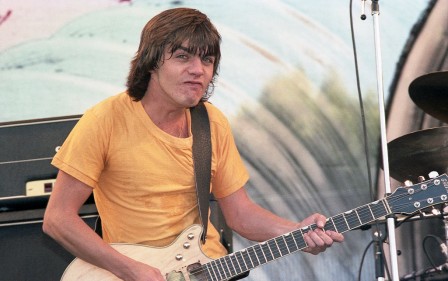 - Photos : Michelle.S
© H2ACDC.COM - May not be reproduced without written permission of Highwaytoacdc.com, contact@highwaytoacdc.com